Welcome!
You have enough to think about when you're visiting a church for the first time. At Hocutt Baptist, you'll be welcomed into a friendly, casual environment by people who are excited to see you and want to help you find what you need! To give you an idea of what to expect when you arrive at Hocutt, we've answered some of the questions for you! All you have to do from here is come as you are and find out more for yourself! Or, if you'd like to know more even before you show up on a Sunday morning, send us an email and we'll be happy to answer any other questions you may have.
What can I expect on my first visit?
Service Times
Our regular weekend gathering times are on Sunday morning:
Morning Bible Fellowship – 9:30 am
Worship Service – 10:30 am
Casual dress
If you feel comfortable in jeans, shorts, or business casual wear, that's what you should wear! If you're accustomed to wearing a coat and tie, that's OK, too. We're a lot more interested in meeting your needs and pointing you to the Gospel than with what you wear.
Greeters
As you enter through the double doors on either side of our Worship Center, we make sure the first face you see at Hocutt is wearing a warm and friendly smile! Whether you are looking for KidzKare, Morning Bible Fellowaship, Hocutt Kidz, Truth Students or a restroom, our greeters will point you (or, even walk with you) in the right direction.
Age-appropriate services for the kids
If you have small children, we know that they are looking for a FUN place to learn! That's why you'll want to check out Hocutt Kidz! Both Kingdom Kidz (ages 4-kindergarten) and KidZone (grades 1-6) offer children's worship featuring the Gospel Project, which takes kids on a Christ-centered, chronological journey through Scripture.
You should also know that we encourage worship as a family, too. The first Sunday in each month, as well as fifth Sundays, your children will join you in "big church." We also have a special worship time for them at the beginning of those services led by our Children's Pastor.
Friendly ushers
Our ushers will welcome you into the Worship Center and direct you to a seat. Then, you're free to give the service a test drive — join in worship with us as we celebrate our great Savior! At the end of the service, when the offering time comes, please know that you are under no obligation to give, and we really mean that! Giving is an act of worship for those who call Hocutt home.
Parking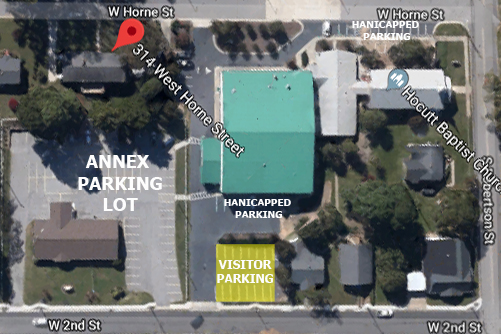 As our guest, we have some very easy parking for you! We have special visitors only parking right beside our Worship Center at the Second Street entrance. If those spaces are full, we have parking available right beside our Truth Student building (the Annex), or across the street from our Chapel on Robertson Street.
BUT WAIT!! You don't really understand that as a first-time visitor, do you? We didn't think so. So, here's a detailed pic; if you're still a little confused, email us and we're happy to answer your questions.
There's one more thing you can do to plan ahead for your first visit. We have prepared simple forms you can fill out online to give us some basic information so we can plan for your arrival!
Click Here for a list of our Morning Bible Fellowship Classes.
Click Here to fill out our Visitor Connect Card.
Click Here to give us some additional information to help us prepare for the children in your family.
Click Here to view a map of our church facilities.