The A.B.L.E service is scheduled to restart in September.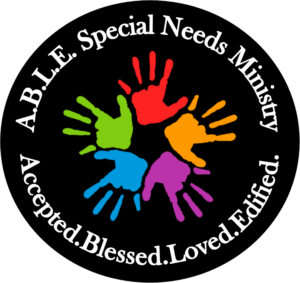 We look forward to seeing all of you again soon!
Please fill out the form below to sign up for A.B.L.E Updates
Hocutt is excited to offer the A.B.L.E. Special Needs Family Worship Service. A.B.L.E. services are held 1st & 3rd Sundays from 3:00pm-3:45pm, at the HBC Annex.
Why is our special needs ministry called A.B.L.E.?
Now all glory to God, who is able, through his mighty power at work within us, to accomplish infinitely more than we might ask or think. Ephesians 3:20
Through God's power, we can be
Accepted – Therefore, accept each other just as Christ has accepted you so that God will be given glory. Romans 15:7
Blessed – From his abundance we have all received one gracious blessing after another. John 1:16
Loved – For this is how God loved the world: He gave His one and only Son, so that everyone who believes in Him will not perish but have eternal life. John 3:16
Edified – Such things were written in the Scriptures long ago to teach us. And the Scriptures give us hope and encouragement as we wait patiently for God's promises to be fulfilled. Romans 15:4
The A.B.L.E. Special Needs Family Worship Service is a unique, sensory-sensitive service for the entire family! All are welcome, and the service is geared toward individuals with differences. There is no nursery and no separate classrooms; plan to come and worship together as a family! As the A.B.L.E. service is a family experience, parents and caregivers are always asked to remain with their children, rather than dropping them off.
The A.B.L.E. service is completely different than a traditional church service. If anyone needs to get up and move around, make noise, sing, or dance, that is fine! We welcome individual worship styles. There is also a "quiet room" available, if things become too overwhelming and you would like a break in a calm setting.
We have a sign language interpreter available, and each service uses concrete language, memorable worship songs, and interactive opportunities. We want everyone to be able to participate!
Each week, we post a social story about every element of the upcoming service, so that families will know exactly what is planned. We post the social story on social media, and also send it out to those who sign up for our email list. We also have a story board in the service, and everyone is able to watch the arrow move to the next element or activity.
If you would like additional information regarding the A.B.L.E. service, send an Email to A.B.L.E. Ministries. We look forward to seeing you on Saturday afternoon at 4:00!
---